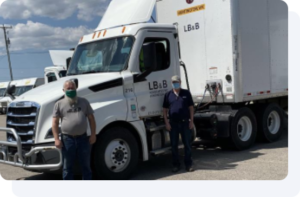 Ever since the COVID-19 pandemic began, the transportation of baked goods has become more essential than ever. LB&B's team has been working harder than ever to supply the Eastern US with freshly baked goods from our customer Bimbo Bakeries USA.
We quickly responded with changes to daily procedures to ensure safety for all, including sanitizing trucks; providing masks, gloves and disinfectant to our drivers; establishing safe distancing practices and implementing new procedures for how we handle paperwork to reduce contact as much as possible – all while continuing to support our customers.
Pictured here is Billy Dillon and Scott Midkiff before they each leave to deliver these essential goods. Again, many thanks to all LB&B's associates and drivers who have been very dedicated and worked tirelessly on the front lines!